During our Spring 2018 California Fire Mechanics Academy last week we received word of the passing of Retired Fire Chief Joseph Rosa. He was our 2016 CFMA award recipient for the Pep Richardson honoree. He was known best for cooking his famous artichoke stew during the Northern California Fire Mechanics Meeting held at the Castroville Fire Fire Station.  It was not uncommon for the number of members attending to be 150 plus. Everyone would leave stuffed from eating his famous stew.  He would never give his recipe out. He enjoyed fellow shipping with everyone during the  meeting and looked forward to the next meeting.  
Pictured below  with Chief Joe Pastore of the CFMA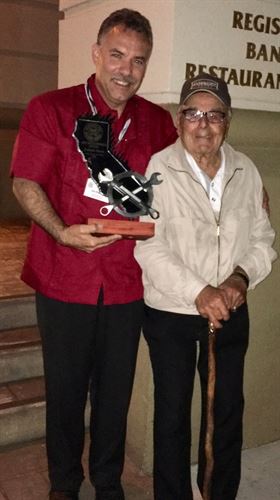 Joseph Henry Rosa passed away peacefully on April 10th, 2018. He was born September 23rd, 1926 in Watsonville and lived a full & happy life. His life included joining the U.S. Navy Aircore as a gunner. On his release from the Navy, Joe farmed with his father in Watsonville until 1950. In 1965, he joined the Castroville fire department, now known as the North Monterey County Fire Department, and in 1978 became chief. After his retirement, Joe became manager of Pajaro Community Service District where he worked until the age of 82.
Joe loved hunting, fishing, barbecuing, and spending time with his grandchildren. Every morning he enjoyed having coffee with the "artichoke mafia" in Castroville.
He was layed to rest April 17, 2018 at Valley Catholic Cemetery.  North County Fire District Honor Gaurd oversaw the last alarm followed up with the sounding of the bell and folding and presentation of the flag to Mrs. Rosa.  The VFW provided the bugler followed  up by a 21 gun salute. He was a great friend and mentor to everyone he encountered. He will be missed.